Moments Captured With A Vision, Creates Miracle With Your Memories.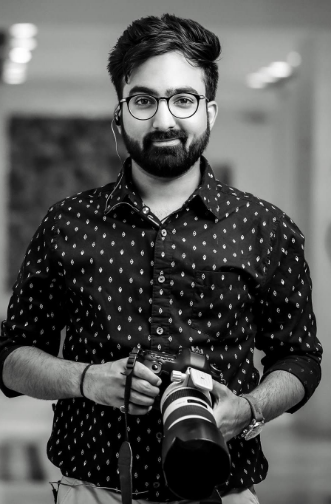 My name is
Jay Chugh


I'm a Photographer.
Waking up to celebrate Major days of your life with A new family is an immense pleasure of A Photographers Life. Started this Journey with a Vision to Capture emotions that are unsaid but can speak thousand words. We may start Professional but we end up making bonds forever. The team's passion and undying enthusiasm has helped JCP carve a niche in the Wedding Photography Industry.
Take months to plan yet they finish with a blink of an eye! ONE BIG DAY. We promise to share bundles of captivating memories that you can all cherish forever. We strive to capture each element of your wedding day & make it a Priceless moment for you.
From still moments of intimacy, From cherishing fun moments on Sangeet Night , From framing fun behind the bars, framing those secretly burning new love stories inculcating in wedding scenes, that passing glances of New Love, the large embrace with the family, it's all worth a beautiful Frame.
It's not only about taking the project. It's about building a relation that goes on forever. Our work process defines & helps to create that bond of comfort, ease & love with you. Interacting with couple during the wedding planning & guiding them through thick & thins of their big day is key part of our Process.
You'll be Working with an incredible talented team of Photographers, Videographers & Filmmakers who ensures to create a discreet & enjoyable service throughout the Journey. We are Prone to make to frame every moment of your Fairytale. We believe That one Big Day Deserves all the hard work & vision to make it a look like a Classic.
A vision is to see your wedding just the way you want it be. The vision is to capture all the emotions & share bundles of Memories that one can cherish forever. Wedding curated with your guidance & our vision creates Magic on Big screens of your Drawing rooms. We believe creating crafts with Quality.
With Fine art Craftsmen working for your Big Day, JCP has created a niche in Wedding Photography Industry with a belief to Deliver Quality. Keeping a connect throughout the process helps us to create a sense of understanding with Couple. We don't want to miss that brother who is always working behind tents. We don't want to miss that BFF who is making sure your next outfit is ready to make you on time. We try to capture every special moment & every special person of your life. Our working Process ensures a better understanding of your requirements & Creating that Big Memory as a Final Delivery.